Allow Me To Introduce Myself
Hey, I'm Nick. I am a recording and mixing engineer and musician – guitarist, vocalist and some-time piano player. I play in the progressive rock band Vandemonian.
I am from Tasmania, Australia originally, and relocated to Hamburg, Germany in 2008.
I grew up to Led Zeppelin, Pink Floyd and Talking Heads playing on my Dad's stereo. But the real musical education came about with the Saturday morning sessions in front of the TV watching the iconic australian music video TV show Rage.
All The Rage
Rage is a TV show much like MTV, but all that is screened are hours and hours of music videos from 1am Friday night to 9 am Saturday morning. The last hour or so was reserved for the top 20 hits.
The great thing about rage was the guest programming. Every weekend, a different band would curate their favourite tunes and music videos. As a teenager I'd stay up all night with my friends and band mates to watch the guest programming by our favourite bands.
By the mid 90s, the top 20 hits were getting really horrible – the dawn of mainstream pop music. But those who got up early enough or stayed up late were given an invaluable education in music.
The Chrysaak
The first album I ever owned was Chris Isaak – Forever Blue. My baby sister used to call him "The Chrysaak".
"Urgh!" I hear you say. Maybe so, but I was young and impressionable, maybe 10 years old. My mum told me a few years ago that he actually played in our home town around that time and my parents considered taking me.
Damn! Missed out on that one! Thanks mum… Maybe for the best?
Over the next few years my taste in music got considerably (subjectively) better. Nirvana, Rage Against The Machine and around puberty all the angst-ridden punk and emo bands that the late 90s brought forth.
A Musical Initiation Into The Pioneers Of Pop
It wasn't until that at 19, my girlfriend's dad got me into a lot of music from the 60s and 70s that I really felt I got an education in music.
These were the pioneers of pop music! Bob Dylan and his lyrics that cut you like a knife, The Rolling Stones with their masterpieces, The Band (and what a band!), Elvis Costello etc. Every night I stayed over at my girlfriend's I would be introduced to a new record, and her dad would tell me all about the artist and the style of music.
It would turn into something like a YouTube party, where we'd just go from one record to the next, each one reminding us of something else, caught in a spiral of sound. I have very fond memories of that time.
I'm In A Band, Man.
I played in bands during high school, we changed the band names almost as often as members came and went, and somehow in my youth I managed to go from 2 hours soccer training straight to 2 hours band practice twice a week for months on end.
It was a small town so gigs were hard to come by but we nagged at the 3 or 4 pubs long enough and at regular intervals until they gave us a slot.
I began delving into recording, just throwing up microphones above the drum kit and in front of the amps and trying to mix without any knowledge of EQ or compression, or a healthy relationship to reverb! I remember just pushing up the frequency curve in the DAW (Cakewalk, I think!) and hoping for the best.
The Day Everything Changed
Around the same time I was reading a lot of Rolling Stone magazine. That turned out to be the catalyst for my entire musical journey ever since. I remember flipping over the last page and on the back cover seeing an ad for SAE Institute in Melbourne.
Well that was it. I had been dabbling in audio for months recording and mixing demos for my band and suddenly I realised I could make a career out of this!
Where do I sign up?! Oh, right there, there's the website. Thanks.
Melbourne, The Big Smoke
Melbourne is the music capital of Australia. AC/DC, Nick Cave, Crowded House, The Living End, The Cat Empire all began their careers in the pubs and clubs of Melbourne. Moving there suddenly gave me the opportunity to get amongst the music scene in one of the most exciting cities of the world.
I had a blast. So many shows to see. Radiohead, Interpol, The Drones, Kings of Leon and many, many other excellent local groups. One Big Day out I managed to be right in front of the stage for Battles, Björk AND Rage Against The Machine. All in one day!
Learning about all things audio at SAE Institute was great too. It tends to get a bad rap because anyone just can pay the fees, scrape through the multiple choice tests and then get a certificate at the end. But discussing recording and mixing all day every day and actively working with the high-end equipment really got my juices flowing. I was set on making a career out of audio.
Das Herz von St. Pauli
Fast forward another year and after a messy break up, I decided to take some time out and head back to Germany where I had been on school exchange a few years earlier. I had a work and travel visa for a year, but what I didn't know then was that I would end up as a permanent resident. It's now been almost 15 years!
In Hamburg I immediately immersed myself in the music scene. My first job was at the Pony Bar in Grindelviertel where I applied to work at the bar and mix the gigs in the back room. After a year or two of that I was asked to mix in the Astra Stube and other clubs in the area.
It wasn't long before I was a fully fledged live engineer and I had trouble juggling working nights with my uni studies. I had enrolled in Media Technology at the University for Applied Sciences.
Mixing gigs at the Astra Stube was another pinnacle of my immersion in music. It is an institution in the underground music scene in Hamburg. The mostly unknown bands that came through that club where phenomenal.
Such a wide range of styles and influences in a room you could cross with three strides! I was really getting into post and math rock bands by then and picked out my favourite shifts to work each month based on the bands playing that night.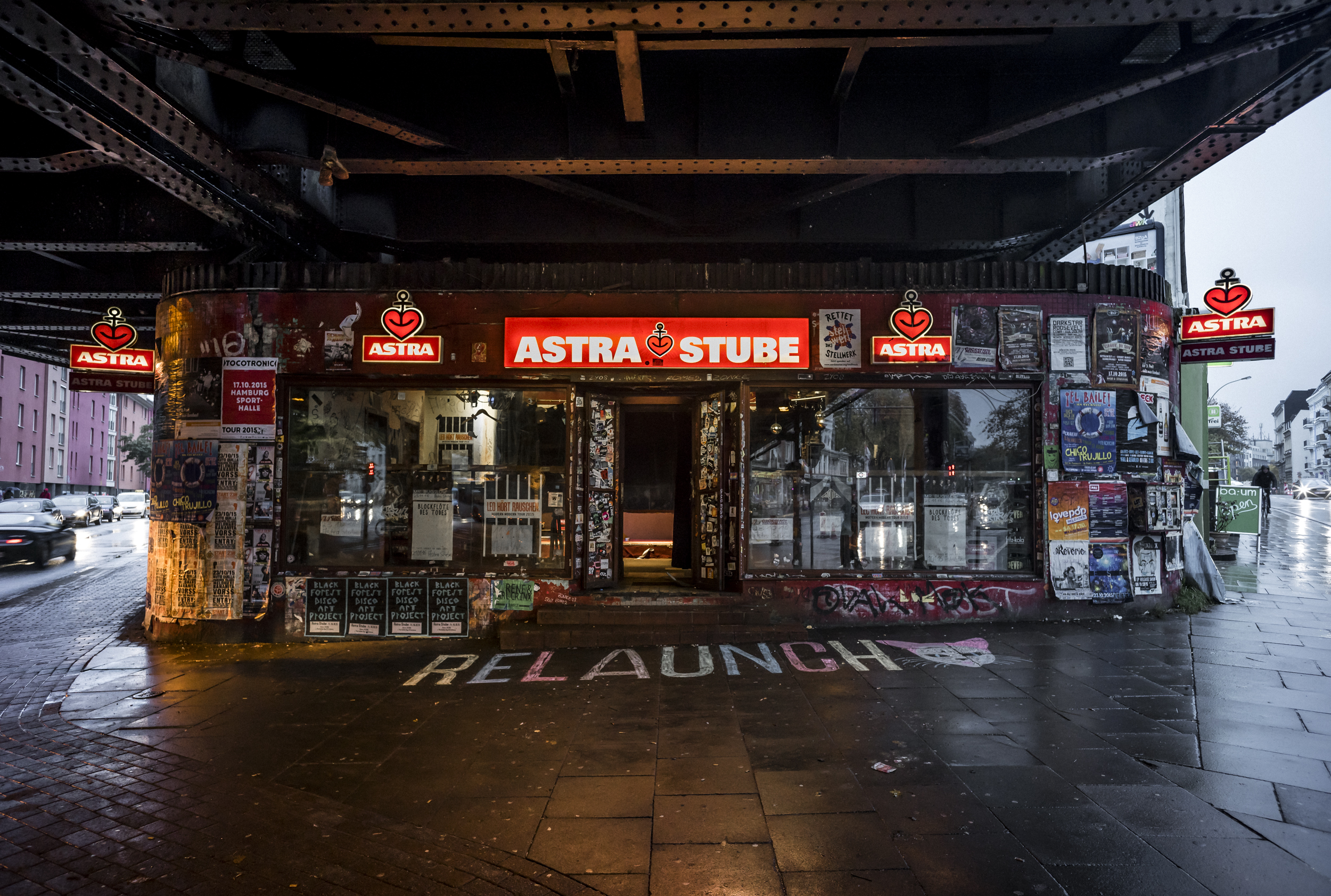 Musical And Production Tastes
My journey through the music landscape from the first records at home to being immersed in two of the most important music cities of the world has given me a broad spectrum of influences and tastes. I love the innovation of genres such as post, progressive and math rock with branches into metal and electronic influences.
But as someone who grew up on classic rock, indie and pop music I can really appreciate a good song. As long as the hook line isn't being shoved down your throat again and again, or the vibe isn't a shameless copy of the flavour of the month, I can dig just about anything.
Over the last few years I have been into bands such as Russian Circles, Chelsea Wolfe, Caspian and Totally Unicorn. For me, these are all bands that are pushing the envelope on what is possible within their respective genres. I love artists who innovate and break down genre boundaries.
Stalwarts in my record collection have been Radiohead, The Drones (since morphed into Tropical Fuck Storm), At The Drive In and The Mars Volta, to name a few.
I do have a soft spot for guitars, both overdriven and clean and jangly and that has been my main focus both musically and in my work as a live and recording engineer. There is just something about the cutting edge of a cranked amp with a creamy riff ripping at your eardrums.
The drums have got to be punchy and in your face too. I like a crisp, clean snare, shuddering toms and a kick with enough oomph to shake your insides.
To make a record like that, you've got to get it right during tracking. Fix it in the mix just ain't going to cut it. That's why I like to be a part of the whole recording process, from laying down the bare bones to editing, mixing and mastering. The latter I offer through professional mastering studios who I have a solid relationship with. There is nothing worse than having a mix come back that was mastered by a "friend" of the band that I no longer recognise as my own work!
Too Much Information
Anyway, that's probably more than enough about me. I hope I have given you an idea of who I am and where I come from.
If you share similar music tastes, play in a band and are looking for a recording and mixing engineer, I would love to hear from you. Get in touch below!
Let me know about your music!
Tell me about your new album. The more details, the better!
By the way, if you just want to drop me a quick message, you can of course email me instead.